Looking for a fresh new ride for all your commutes around Beaver Springs, Lewistown, Lewisburg,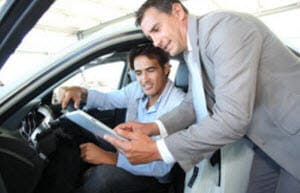 and Harrisburg? You may be considering a lease plan, so you can get a car you love at a price that doesn't break the bank. A lease requires a shorter time commitment, and has much lower monthly payments than a full purchase. But, can you lease a used car?
To help answer that question, and others you may have about leasing, our team at Beaver Motors has put together this quick and helpful guide to leasing. Prepare to be educated on all things lease-related!
Can You Lease a Used Car?
Yes, you can lease a used car using the exact same process as a new car lease. All you'll have to do is find a pre-owned car that you love, and head to the dealer's finance center, where the staff of financial professionals can set you up with what you need. They'll discuss your financial situation and budget with you, and then put together a personalized lease plan with the best rates they can find.
When you lease a car, you're essentially borrowing it from the dealer for a set amount of time. At the end, you'll just have to return it. It's as easy as that!
Benefits of Leasing a Used Car
When you lease, all you pay is the cost of the depreciation that'll occur as you drive the car for a few years. When you purchase a car, you have to pay for its full value, so monthly payments are much higher. Leasing allows you to save big on your monthly payments.
Once the term of your lease is over, all you have to do is drop the car back off with the dealership. This means that you'll never get bored of driving the same car for years on end, because you'll be able to get something new every few years. Never miss out on the latest technology and features.
Cons of Leasing a Used Car 
Many lease contracts set a limit on the number of miles you're allowed to drive the car during your lease. Be sure that the amount allows you enough leeway to get where you need to go.
You can't make any changes or improvements to the vehicle, and you'll have to be especially careful about avoiding damage both inside and out of the car. The dealer will expect the car to be returned in about the same condition as when you first drove it home, so you'll need to take the best care of it.
Discover Your Dream Car
Are you ready to find the make and model of car that you'll drive around Beaver Springs, Lewistown, Lewisburg, and Harrisburg for the next few years? Check out the inventory of pre-owned vehicles here at Beaver Motors, either by checking out what's listed on our website, or by coming to see us in person. Our expert team will help you discover your dream car, and get you the lease plan you need to drive it home with you.