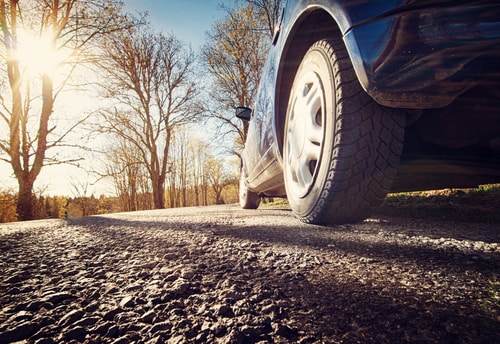 If you're driving along the roads of Lewistown, PA and suddenly hit a branch, rock, or nail, you could find yourself in need of flat tire repair. Depending on how extensive the damage is, it could cause a bigger problem with your tire, so it's best to get your repair completed as soon as possible.

Find out more about tire repair services at Beaver Motors and see how we can help with all your repair and maintenance needs.
Signs of Tire Damage
In many cases, a flat tire can be repaired with a plug or patch, but sometimes the damage is bad enough to warrant a full replacement of your tires. This may be inconvenient, but it's best to get your tire in for a repair as soon as possible.
Here are the signs of tire damage:

Bulging sidewall: If you hit something big with your tire, it could cause the sidewall to bulge, which could compromise your tire's safety.
Bent rim: Newer cars have aluminum rims, which can bend easily if your rim hits something big and hard. If this occurs, your tire won't have adequate contact between the rim and the road, leaving it susceptible to more damage.
Low tire pressure: If you're consistently noticing low tire pressure that doesn't completely resolve by refilling the air, it could indicate that you have a leak somewhere in the tire. This can leave you vulnerable to a blowout.
If you notice any of these signs, it's best to find your nearest tire shop and schedule an appointment.
Tire Repair near Me
Tire repair is a minor service, but that doesn't mean it should be left up to just anyone. Your tires are your vehicle's contact point with the road, so you want to be sure they receive professional repairs that will last.
Fortunately, our automotive service center is here for all of your tire needs. We not only employ a highly trained team of service technicians with years of experience repairing and maintaining tires, we also have the skilled eye necessary to spot minor problems before they become major repairs. Whether you need a tire rotation or repair, or wheel mounting and balancing, we're up to the task.
About Lewistown PA
Lewistown is a borough in Mifflin County, Pennsylvania, that's located along the Juniata River, northwest of Harrisburg. In 1973, it received the "All-America City" award for its rebuilding process following Hurricane Agnes.
The city is home to many historic landmarks as well, including the Mifflin County Courthouse and Monument Square, Hotel Lewistown, Old Arch Bridge, and the Embassy Theatre. The Montgomery Ward building, the Lewistown Armory, and the Coleman Hotel are just a few more attractions in the area.
If you want to explore all that this area has to offer, you'll need to be sure that your vehicle's tires are safe and reliable by getting proper care and maintenance from our tire repair shop.
Schedule Your Tire Appointment
If you need tire repair near Lewistown, PA, the tire shop at Beaver Motors can help. Call or stop by our service center today to schedule your tire service appointment and get back on the road in no time!