As the very thing that helps you surge over the roads of Beaver Springs, PA, your tires are the key to staying stable and agile during any journey. With all the awe-inspiring outdoor destinations and historical landmarks tucked into this town, it's essential that nothing holds you back from your itinerary.
Fortunately, the trustworthy service professionals at Beaver Motors come with years of experience in all things tire repair related. Thanks to our team of dedicated technicians, you'll always know that you and your vehicle are in good hands.
Our Tire Repair Professionals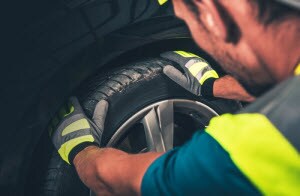 Think about it: when your tires provide you with the means to course over the road, why wouldn't you make sure that they're in the best shape possible? Well, luckily, caring for your tires couldn't be easier. All you need is the assistance of a team of highly-qualified mechanics and some basic know-how!
Once you arrive at our state-of-the-art service facility, you'll be greeted by our skilled mechanics who are ready to get to work on your tires-whether you need a replacement, a patch or plug, or just a refill on air pressure.
If you're not quite sure why your tires may not be performing like they used to, our staff is happy to take a look for you and provide you with a diagnosis. That way, you can get the care you need to continue soaring down the highway.
On top of that, our friendly representatives are always happy to offer up some information about the most common tire repair warning signs. Some of these telltale symptoms are things like:
Bulges or Cracks on Your Tire Wall
Uneven Tire Tread
Vibrating with Driving
Tire Warning Light and more
Convenient Tools and Services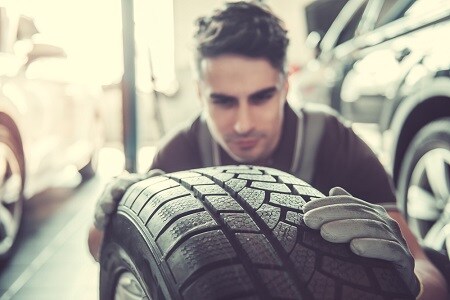 When you're searching for information about tire repair services near Beaver Springs, PA, it's always helpful to have access to handy resources from the comfort of your own home. That's why our team has designed a collection of tools that give you a better sense of the type of tire specials we offer.
For example, our Maintenance Schedules allow you to get a better sense of when you should reserve an appointment for a tire rotation, air refill, or any other type of tire service.
By accessing these informative schedules, you'll be more likely to sidestep tire repairs in the first place and stay in pace with your car's necessary checkups.
In addition, our staff presents a selection of specials and coupons on different services throughout the year, including tire repairs. To take advantage of these beneficial incentives, feel free to head to our Service Coupons page or our Service Specials page.
Once you've scrolled through our current offers, be sure to save the one that applies to you. Then, all you have to do is schedule your appointment and bring your coupon with you when you visit us.
Schedule Your Tire Repair near Beaver Spring, PA!
At Beaver Motors, we know how much you love confronting the roads of Beaver Springs, PA, with outstanding performance and durability. So, to preserve your automobile's head-turning capability, choose the educated technicians and expert tire repair services at our dealership.
Don't let your tires make you miss out on your next road trip. Instead, stop by our showroom or schedule your service appointment today!