When the drivers in Beaver Springs, Lewistown, Lewisburg, and Harrisburg hear about a new truck, their first question is almost always: What is its towing capacity? That's why our team here at Beaver Motors created this official guide to a variety of Ram towing capacities. Feel free to reach out with further questions.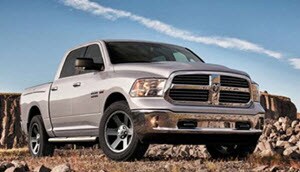 So, without further ado, let's dive right in and see how much the Ram 1500, Ram 2500, Ram 3500, Ram Chassis Cab, Ram ProMaster City®, and Ram ProMaster® can tow. Here we go, so hold onto your cargo!
Ram Trucks: Maximum Towing Capacities
2017 Ram 1500. This half-ton pickup truck can tow up to 10,620 pounds with its gas engine! Plus, it can carry a payload of as much as 1,880 pounds*. That's incredible, especially seeing as we just got started.
2017 Ram 2500. Now, we've moved up a level and we're in for some heavy-duty hauling. We're talking about a max diesel-towing capacity of 17,980 pounds*. Whoa, we'll repeat that figure: 17,980 pounds!
2017 Ram 3500. Power for the long haul means mythic towing and hauling capabilities. And 31,210 pounds (max diesel towing) and 7,390 pounds (max gas payload) is nothing to be trifled with-nothing at all*.
Ram Chassis Cab. This is the Ram that allows you to fit the largest cargo. With 29,600 pounds of diesel towing and 12,480 pounds of diesel payload*, you couldn't quite haul your house, buy maybe it's close…
Ram ProMaster City®. With a 1,883-pound max payload and up to 131.7 cubic feet of cargo space*, you'll never feel have to play Tetris with your belongings again.
Ram ProMaster®. This impressive vehicle has a 4,430-pound max payload and over 460 cubic feet of cargo space. That's humungous!
Ram Towing Features
Of course, Ram trucks like the 1500 and the 2500 offer plenty of towing features that make these huge numbers possible. Let's look at the performance-enhancing systems that promote safety, control, etc.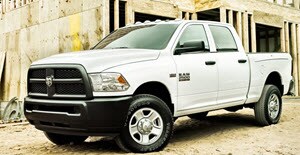 Active-Level™ Four-Corner Air Suspension: This state-of-the-art suspension lets the Ram 1500 handle a diverse array of loads. The driver can adjust the air springs to tailor the height to one of five pre-configured settings. This is all possible due to conveniently located dashboard controls.
Hill Start Assist: Now, the Ram 2500 can automatically detect when you're on an incline. Then, it'll take the necessary measures to ensure that you don't roll backwards while you accelerate.
Integrated Trailer Hitch: Four- and seven-pin trailer hitch wiring harnesses connect everything.
Trailer Sway Control: Last, but certainly not least, we've all had the experience of driving on the highway with an out-of-control trailer. It's terrifying, it's dangerous, and it can be deadly. With the Ram 3500's Trailer Sway Control function, you don't need to worry about this quite as much.
Contact Us Today at Beaver Motors to Schedule Your Ram Test Drive!
Would you like to test drive one of the Ram trucks that we covered in this towing guide? If you live near Lewisburg, Lewistown, Harrisburg, or Beaver Springs, you can. Get in touch with us today to schedule!
You can call us on the phone, fill out on online contact form, or stop by our dealership. See you soon!
*When properly equipped. See dealer for details.