As the longest continually operating member of the American Hockey League, the Hershey Bears certainly have something to prove as the 2018-2019 hockey season commences.
And, this year, make sure you catch a glimpse of all the action by cozying up at a local hotspot and cheering on your team with plenty of frothy libations and scrumptious grub.
Well, we're here to point you in the direction of the top places to enjoy this glacial game with our guide to where to watch the Hershey Bears. So, grab your jersey, sip on some hearty ales, and watch your favorite team soar along the ice.
Arooga's Grille House & Sports Bar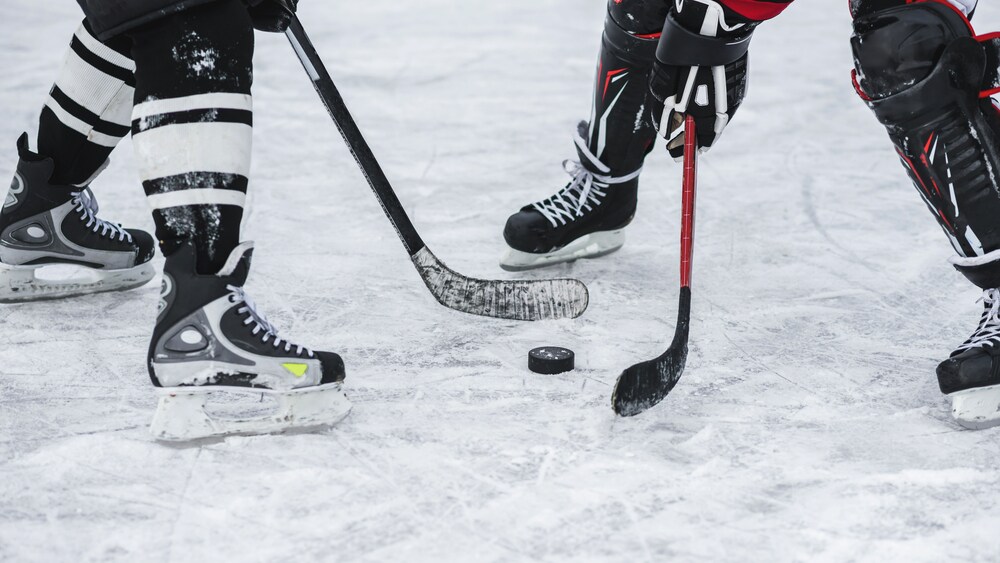 Let's face it: There's nothing more that we all look forward to than diving face-first into those quintessential game day foods. And, at Arooga's Grille House & Sports Bar, you'll chow down on their award-winning wings throughout the game and come back for more during the blood-pumping first period.
Each wing flavor gets cradled into its own category, featuring things like Hot, BBQ, Dry Rub, Creative, Customized, and Combos. So, if you're a wing fanatic or a drumstick devotee, you can get your basket filled with only the ones that please your game-day palette.
Puck Drop Starters:
With such an amazing selection of wings, you've got to order up at least one helping of these succulent delicacies while you're watching the game at this joint.
Our recommendation? The winner of the National Buffalo Wing Festival, the Almost Everything BBQ Wings. These babies come smothered in a melody of fan-favorite sauces, like Hot, Ragin' Cajun, Hickory Smoked Honey BBQ, and Garlic Herb mix. After one bite, we think you'll be hooked.
Take a look at their Facebook to see more of their menu options!
Hershey's Lodge
What could possibly be better than pulling up a chair at a 4-star hotel and soaking up all the thrilling action of your favorite hockey players flying along the ice?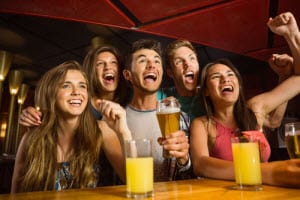 Well, tucked within the welcoming confines of this inn is the Bears' Den, a sports bar dedicated to one thing and one thing only: cheering on the Hershey Bears. Modeled after a hockey rink, this destination displays the game on 28 HDTVs and a 7-foot by 12-foot projection onto the wall.
Of course, you can't forget about the food. This local hotspot serves up plenty of chow that'll keep you energized for the whole game.
Half-Time Entrées:
Obviously, after you've snacked on a platter full of wings, it's time for the main event: your entrée. Fortunately, this hockey-inspired joint delivers a punch of flavor to your taste buds with their ever-popular burgers.
Try out the Mac and Cheese Burger, which douses the All-Steer Chuck patty with Mac and Cheese, Smokehouse Bacon, Cheddar Cheese, Lettuce, Tomato, and Onion. All that gets piled high onto Grilled Onion Brioche for the perfect finish.
Plan your visit by checking out their Facebook page!
The Penn Hotel Sports and Raw Bar
Sometimes, you've got to pair a nail-biting game with some fresh seafood. That's why the Penn Hotel Sports and Raw Bar is ready to deliver a piping-hot platter of your favorite ocean gems to your table, all while you root for the Hershey Bears.
Not in the mood for hot seafood? Check out their Raw Bar options that include a wide array of freshly caught shellfish.
In addition, this sports bar comes with fourteen drafts on tap, nine rotating craft beers, and a selection of bottles. That way, you're sure to find your most beloved elixir to sip on during overtime.
Overtime Grub:
Just because you've already had your entrée doesn't mean that you should stop eating! To make sure that you're filled up and ready to cheer on the Bears during overtime, order their Raw Bar Sampler, which provides you and your friends with six Oysters, six Peeled Shrimp, Lump Crab, Mussels, and one pound of clams. Talk about a competition-defeating feast!
Visit their Facebook profile to see your fellow Hershey Bear fans enjoying a game!